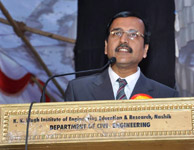 Keshav Nilkanth Nandurkar was born on 11th August 1965 in Ahmednagar. His father Shri. Nilkanth Mohiniraj Nandurkar is a retired Art Teacher who taught at Purushottam English School, Nashik Road for over three decades. Shri.N.M.Nandurkar is a well-known artist, author, playwright and dramatist. He has published several books and short stories in different magazines.
Dr. Keshav's mother late Mrs. Uma Nilkanth Nandurkar was also a teacher at Shri D.S. Kothari Kanya Shala, Nashik Road till her demise in 1998. He has two younger brothers. Dr. Jogeshwar Nilkanth Nandurkar has completed his PhD in English Literature from University of Pune and currently teaches at Smt. R.J. Bytco Girls School, Nashik Road. His youngest brother Gopal Nilkanth Nandurkar is a freelance artist, now settled in Pune
Keshav Nandurkar completed his schooling from St. Xavier's High School and P.E.School, Nashik Road. He received Merit Scholarship in his 7th Standard and passed the Intermediate Grade Drawing Examination with grade "A". He was an active member of NCC unit and also pursed acting in One Act Plays. He passed SSC (10th Standard) examination in 1981 with flying colours. He always used to be among the top five rankers in the school and he also won the National Merit Scholarship after SSC.
Keshav Nandurkar joined Bytco College, Nashik Road for his XI and XII (Science) course and passed his HSC examination with Distinction in 1983. Subsequently, he joined Walchand Institute of Technology, Solapur for BE (Production) course. During his college days, he was known for his artistic skills and won the prize for cover design of his college magazine. The name suggested by him for the magazine "WITNESS", was continued by the college for several years. He graduated with First Class and Distinction in 1987.
After a brief stint as Trainee Engineer at Kirloskar Oil Engines Ltd. (Bearing Division), Ahmednagar, he joined K.K.Wagh College of Engineering, Nashik in 1988 as Lecturer in Production Engineering. After successfully passing GATE 1990 examination, he joined V.J. Technical Institute, Mumbai for ME (Production) course in July 1990. He scored highest marks in certain subjects and designed the layout of Computer lab in the department with his fellow student. With the permission from Mr.Subash Dandekar, then Chairman of Camlin Ltd, he completed his ME project with the Art Material Division of Camlin Ltd., Mumbai and obtained his degree in 1993 with First Class.
Mr.Keshav continued his teaching job with K.K.Wagh College of Engineering on returning back from Mumbai. He married Ms. Archana Gargate (now Mrs. Archana Nandurkar) in 1993 and was blessed with a daughter "Bhoopali" in April 1995. Meanwhile he was also selected for PhD programme in Mechanical Engineering at Indian Institute of Technology, Bombay under the Quality Improvement Scheme (QIP). After completing the initial work in vacation, he joined IIT Bombay in July 1996 on a full time basis. Initially he stayed in Hostel 2 as a bachelor accommodation and later on shifted to his family quarters in QIP building No.2. In the same year, he was also promoted as an Assistant Professor in Production Engineering by his institute. He completed the academic requirements of his research under the guidance of Prof. A. Subash Babu in 2000 and joined his institute back as Head of Production Engineering Department. After completing all formalities of PhD programme, the degree was awarded to him during the convocation held in 2003 at IIT Bombay.
Dr.Keshav was selected as Professor in Production Engineering in March 2004 and was entrusted the responsibility of the Principal of the Institute in September 2004. At that time, the intake was only 600 students. By the next decade, the student intake escalated to 840. Due to his sincere efforts, the first PG program in Production Engineering was started in 2006 and now the institute has six PG programs in Engineering besides MBA and MCA courses. The institute now works in two shifts. It was accredited twice by the National Board of Accreditation, New Delhi and ranked among the top five unaided engineering colleges in the State of Maharashtra.
Besides being an efficient administrator and a Member of Board of Directors of K.K.Wagh Education society, he is a popular teacher. He regularly teaches UG and PG courses and also guides students for their projects at UG, PG and PhD level. Six candidate have completed their ME dissertation and two candidates have completed their PhD research under his guidance. Six more candidates are pursuing their PhD research. He has published 23 research papers in various journals and over 60 papers in various National and International Conferences in India and Abroad. He visited The United Kingdom and Ireland (1999), Bangladesh (2002) and The Netherlands (2006) for attending International Conferences. He visited six reputed universities in the USA (2008) under the Indo-US collaboration for Engineering Education (IUCEE). He attended the Global Engineering Deans Council (GEDC) Conference at Peking University, Beijing, China (2011) and an International Interactive workshop on "Effective Academia Leadership" in Malaysia (2013).
He is a well-known orator and a motivational speaker. He has been invited to deliver over 50 expert lectures by various organizations. He has received several awards. Prominent among them are the Jeevan Gaurav Puraskar for work done in the field of education from Deshastha Rigvedi Sanstha, Nashik, the "Shikshak Gaurav Pursar" by Sarvajanik Vachanalaya, Nashik on occasion of Teachers Day 2011 and "Engineering Achievement" award from The Institutions of Engineers (India) Nashik Local Center on the occasion of 47th Engineers Day- 2014.
Besides administration and teaching, he is a member of several academic bodies such as Board of Studies, Faculty of Engineering at University of Pune and Amravati University. He is also a member of various professional bodies like Indian Institution of Production Engineers (since 1992), where he is currently member of National Council as Chairman of IIPE, Nashik, Life Member of Indian Society for Technical Education (since 1993). Life Member of Indian Institution of Industrial Engineering (since 1995), Fellow Member of The Institute of Engineers (India) since 2006, Member of Operations Research Society of India since 2003 and member of Institute of Industrial Engineers (IIE), Society of Manufacturing Engineers (SME) USA since 2004 In his teaching career, spanning over 27 years, Dr. Keshav Nandurkar has achieved several milestones and continues to excel in leading one of the largest unaided engineering institutes in the State of Maharashtra.